WKPT awarded Taichung Golden Hand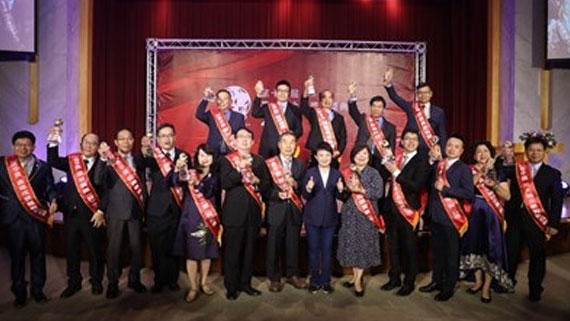 17 SMEs awarded Taichung Golden Hand, Taichung Mayor Lu Shiow-yen appreciated growth against the
19th Taichung World Maker Award was announced and 17 SMEs were awarded. To affirm the contribution of local enterprise to economy, IDIPC held a great ceremony today (Oct-31) at Windsor Hotel Taichung. Taichung Mayor Lu Shiow-yen affirmed awarded SMEs are still growing against the trend under severe economy conditions. She hopes the awarded SMEs can give back to employee and society, and the city government will be the best support for SMEs.
"Black Hand to Golden Hand" Mayor Lu said that Taichung City is an important manufacturing town and used to be started from traditional machinery. Many local SMEs started from "black-hand" workers. It's a top honor to awarded as world maker, for it's necessary to have excellent products, credible and strong R&D ability which audit by jury. SMEs dedicate themselves under US-China trade war and COVID-19 and made Taichung have biggest investment amount among Taiwan's six special municipalitie.
Mayor Lu said, the city government advocates light tax policy, reducing Land Value tax to support local SMEs. Besides, the city government invested NT$5.8 billion dollars in building Taichung International Convention and Exhibition Center in Shuinan Trade and Economic Park (S.T.E.P). The convention center will be an important sales & production platform to exchange skills and attract global buyers in Taichung.
Zhang,Ming-Bin, the CHAIRMAN of InvesTaiwan, MOEA said, Taichung has the most amount of investment and SMEs, the total investment amount is over NT$200 billion dollars, also increased the investment in near city Miaoli, Changhua, Nantou and Chiayi.
Huang,Yu-Shan, the director of IDIPC said, "great success on team; small success on individual" Rome wasn't built in a day. Corporate operation is like a precision machine. Hope the powerful momentum in Taichung can drive Taiwan's economy.
IDIPC said, total 17 SMEs won Golden Hand award, including World Known Precision Industry Co., Ltd., IC Star Group, OAV Equipment & Tool, Inc., LIAN YU OIL SEAL Enterprise Co., Ltd., Sharp-Eyed Precision Parts Co., Ltd., Hopak Machinery Co., LTD., Avalong Technology Co., Ltd., Zhan Yi Co., Ltd., Autocam Technology Co., Ltd., KingLeader, WEBB ELECTRIC Co., Ltd., Smatech Machinery Co., Ltd., INNOVATOR Machinery, Shin Wei Cheng Machinery Co., Ltd., U-START CO., LTD., Jung Yi Steel Co., Ltd. and Cosda Manufacturing Company.
IDIPC said, Taichung City started form traditional machinery to precision machinery golden valley, especially machine tool industry with world-leading advantage. Due to COVID-19 this year, manufacturing industry situation is very hard; many SMEs have gone negative growth. Nevertheless, the award-winners still keep upgrading and expanding global sales market. Zhang,Feng-Yuam, the minister of Economic Development Bureau, Dong,Wen-Rong, Current President of Golden Hand Association, Ke,Chao-Zhi, founding president of Golden Hand Association, Huang,Xin-Hui, City Councilor and the representative of City Councilor Ran,Ling-Xuan all attended for congratulation.