Corrosion Resistance For Surface Treatment Up To 2000 Hours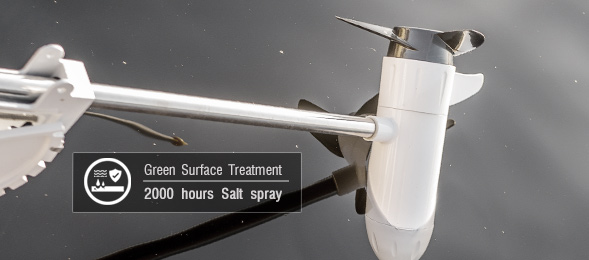 The Surface Treatment Provided By WKPT
In the field of precision metalworking, WKPT is committed to creating value for customers. Therefore, customers can obtain not only machining and shaping from WKPT, but also a complete product metalworking solution from forming to packaging and logistics. As for the surface treatment mentioned in this article, depending on the different products and materials, WKPT can provide various surface treatment processes such as electroplating, coating, anodizing, and heat treatment to help customers achieve the best performance of their products in their professional application areas.
The Practical Application of Dacromet in WKPT
When manufacturing the components of marine propulsion equipment for global brands, WKPT faces the challenge of surface corrosion in a high-salt and high-humidity marine environment. WKPT has adopted the Dacromet surface treatment technology, a patented process developed and widely used in the United States. Dacromet differs from traditional hot-dip galvanization (HDG) in that it does not involve electrolysis and acid washing during the treatment process, thereby eliminating the risk of hydrogen embrittlement. Furthermore, Dacromet offers superior corrosion resistance and resistance to corrosion of dissimilar metal materials compared to the HDG process. After undergoing Dacromet surface treatment, the components have passed the 2,000-hour salt spray test conducted in-house and are suitable for use in high-salt and high-humidity marine environments. According to the conversion formula of salt spray test and natural exposure days, 2000 hours is approximately equal to 27 years of natural exposure days.
Green Surface Treatment
As mentioned above, the Dacromet surface treatment technology is an excellent choice for corrosion prevention in fastener surface treatment. However, with the growing awareness of environmental protection and sustainable development, the use of Dacromet is not ideal as it produces hexavalent chromium, a chemical substance that is not environmentally friendly and non-toxic. Therefore, WKPT has switched from Dacromet to the environmentally friendly and chromium-free Geomet surface treatment technology, which complies with RoHS and REACH regulations and is in line with international environmental trends.
Providing Customers with Metalworking Solutions that Balance Functionality and Environmental Protection
WKPT not only offers functional metalworking services but also emphasizes the importance of being environmentally friendly and non-toxic. From raw materials to the production process, WKPT helps customers achieve sustainable development in metal forming and processing.